Everyone wants to do some adventure away from their boring life, where they can remember the movement of that life for a lifetime, keeping all these things in mind, I have present for you the best water adventures in India about those places. It is told where you must go before becoming at least old.
These are the most memorable movements of our life, in which we enjoy our life by tearing the distance fear, to be honest when I did the water adventure activity for the first time, I was feeling very scared but I was enjoying it more than that. Where I have forgotten all my bad movements and at that time I started realizing how beautiful life is, so without wasting much time let's know about those top water adventure destinations.
Also Read: Top 10 Most Expensive Water Brands In The World
5. Kovalam, Kerala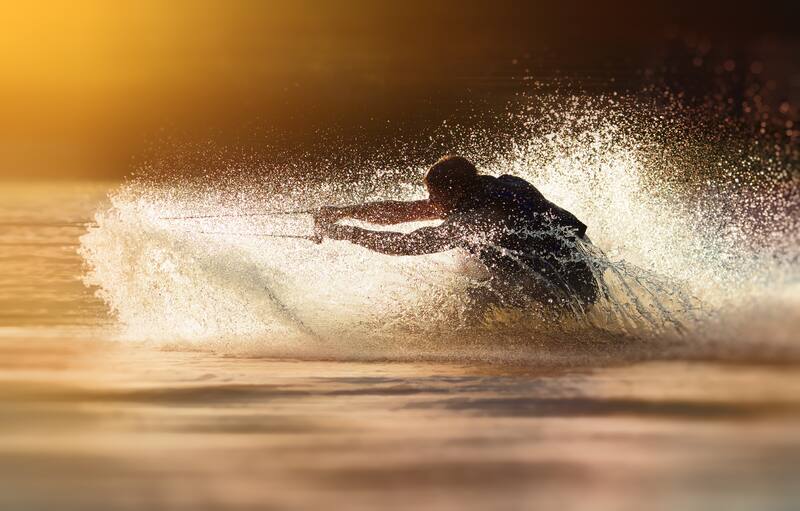 A quaint town by the Arabian Sea, Kovalam boasts of three beaches – Lighthouse, Hanwah, and Samudra. This beach town is quite popular among adventure sports aficionados largely due to its picturesque setting. The clear waters of the Arabian Sea will tempt anyone to jump in and have a relaxing swim. While boating and kayaking are the more popular activities, you can also opt for off-beat experiences by choosing parasailing, windsurfing, and water skiing. If you are not too experienced, there is no need to worry as experts will be around to assist and guide you. Additionally, backwater cruising is a must for anybody who visits Kovalam as it gives you a glimpse of marine life from close quarters.
4. Pondicherry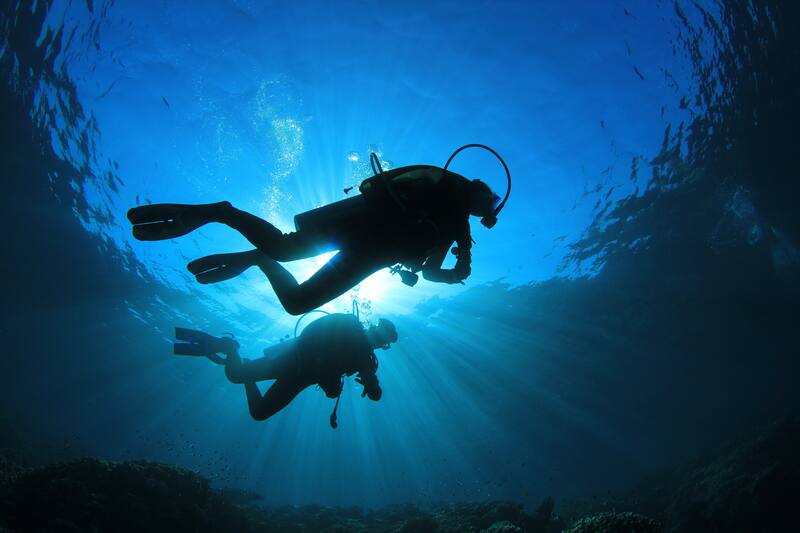 Tucked away in the southern corner of India, Pondicherry is a popular holiday destination for both Indians and foreigners. The French architecture that dominates the cityscape lends it a unique continental charm. There are plenty of beaches in the city where you can unwind by lazing around or participating in water sports. Scuba diving is a must if you travel to Pondicherry. Cool Shark Reef, Aravind's Wall, Temple Reef, 4 Corners, Ravines, and The Hole are some of the famous spots, and scuba diving is organized by Temple Adventures, a 5 Star Rated PADI center.
3. Rishikesh, Uttarakhand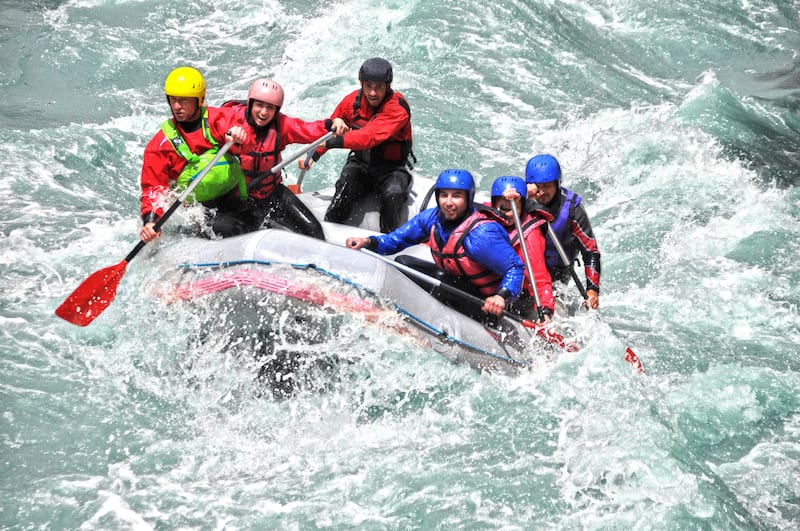 From body surfing to cliff jumping, enthusiasts will be spoilt for choice in Rishikesh, irrespective of their level of skill or experience. If white water rafting excites you, head to Kaudiyala, a beautiful village, which offers a grade 4+ river raftering stretch. Located at 380 meters above the sea-level, one can enjoy a breathtaking view of the hills while rafting down the famous rapids – The Danies Dip and Three Blind Mice.
For the not-so-adventurous, body surfing will be a unique experience – it is fun, enjoyable, and requires little experience or skill. Cliff jumping is another sport that novices can participate in – the thrill of jumping in ice cold water from a 30-40 feet high cliff is exceptional.
Kayaking, however, is a must for anybody, including beginners. The region has exciting kayaking stretches, and you can always enlist the help of internationally experienced experts available on spot.
2. Kavaratti, Lakshadweep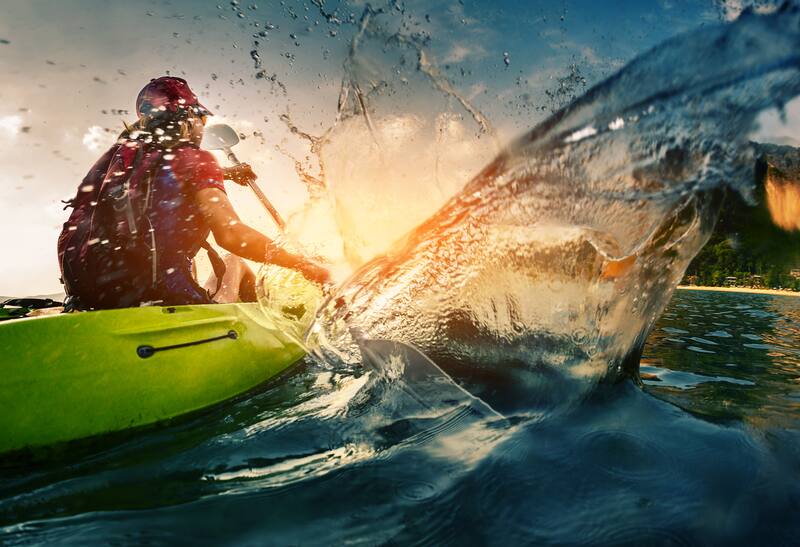 Lakshadweep is a water sport enthusiast's delight; you can go kayaking, scuba diving, canoeing, and snorkeling. If coral gazing is on your bucket list, you can head to the Agatti islands and cross it off. However, for adventure sports, Kavaratti is the place you must head to. The beautiful calm lagoon is the ideal setting for swimming, kayaking, and yachting. If you cannot swim, enjoy a ride on the glass bottom boat, which allows you to gaze at the exotic marine world. The Dolphin Drive Center is a major attraction for those interested in water sports.
1. Zanskar, Jammu & Kashmir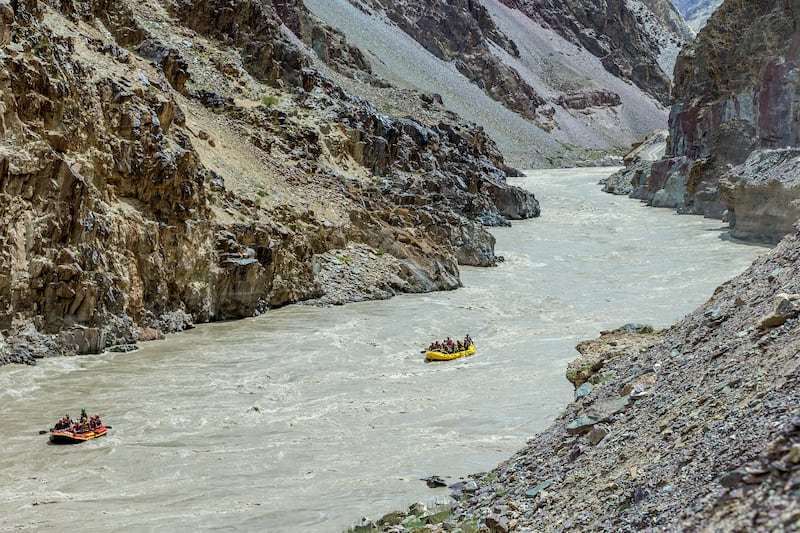 A delight for the more adventurous and experienced, Zanskar Valley is located at more than 12,000 feet above sea level. The Zanskar River poses a challenge to even the most skilled rafters. Tackle rapids of every grade, ranging from 1 to 4, while enjoying the spectacular scenery of the valley. At the end of the valley, you will be greeted with the sight of the sublime Zanskar Canyon, also known as the Grand Canyon of India. It is a grade 4 section, and you can enjoy kayaking as well.
If you are enthused about adventurous activities, waste no time; pack your bags and head out. After all, even if you are no expert, you can always learn and graduate to more thrilling water sports.
Final words
I hope that after reading this article, you must have felt excitement and you must have been trying to go here from now on, but keep in mind that this adventure proves to be a danger at times, so you must take care of your safety, enter here. While being there and in the end also I would tell you to definitely enjoy these adventures.
Read More:-